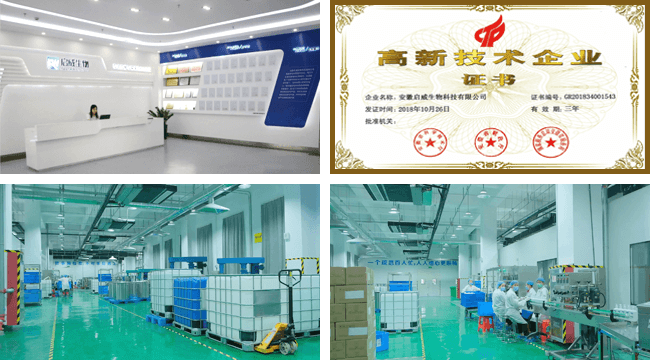 Craftsmanship Institutes Quality,Technology Enlightens Life
AnHui Kiwi Biotech Co., Ltd. was founded by Professor Zhang Guoqing of University of science and technology of China in 2015. Located in Hefei, Anhui Province, it is a national high-tech enterprise focusing on various disinfection, antibacterial and deodorization application technologies. As an incubator of the Institute of advanced technology of University of science and technology of China, the company has an international leading R & D perspective and innovation ability, and an excellent R & D team led by Professor of University of science and technology of China. At present, the company has applied for 68 domestic patents, 1 International Patent and 35 authorized patents.
With R & D, Qiwei biology has continuously strengthened its core advantages. Its business development covers medical, catering, pet and other fields, and has been highly praised by customers. The company has a modern R & D and production base of 6000 square meters, with an annual output of more than 30 million bottles. Disinfection products are exported to the United States, Europe and other markets.
"To be an enterprise with a high sense of social responsibility"It is a concept established by the founding team headed by Professor Zhang Guoqing at the beginning of the company.
Since the outbreak of the new crown epidemic, Qiwei biology has been brave in taking social responsibility, donating a large number of disinfection products to Wuhan hospital and the first-line anti epidemic units in Hefei to fight the epidemic together with all sectors of the society and help to return to work and production. In May 2020, Qiwei biological provided hand disinfection products free of charge for nearly 100 primary and secondary schools, helping schools to return to school smoothly, and the total value of donated materials exceeded 2 million yuan.